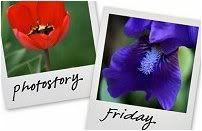 Hosted by Cecily and MamaGeek


'Twas a night long ago, when we looked round the house
And knew we wanted a pet, something bigger than a mouse!
Such an important decision should be made with care -
With a house and a yard, yes, we knew we were there!
"But what would we choose?," was the question in mind.
So many species and breeds, a puppy dog we would find!
So off to the  internet we flew like a flash,
Did lots of research for breeds that won't clash.
"Let's go to a breeder," said hubby to me.
"Those dogs are perfection.  Take a look, you'll agree!"
"But check out that price tag," I said back to him.
"We don't need a show dog, shelters have great dogs in them!"
A mutt would be awesome, the best of both worlds.
Part Retriever for him, Part Chow chow for her!
All the shelters we questioned, were there puppies around?
We extended our search.  Our pup had to be found!
A pound in the country, we were told at last,
Just got a whole litter - but we had to move fast!
The pups were the cutest, with tails that curl.
The litter consisted of four boys and one girl.
We played with them all, each had such personality!
Finally we had the right one, the perfect dog for our family.
His eyes, how they twinkled!  His face, how furry!
His ears were all floppy.  His nose wet as a cherry.
His fuzzy puppy tail kept wagging to and fro.
And the fur of his belly was as white as the snow!
We drove away in the car, our new fur-ball in my lap,
"We have to give him a name, and a good one at that!"
Not Maurice, nor Charles,  nor Tom, Dick or Harry,
We went through them all, till we landed on "Eddie."
Yes, Eddie's just right, we proclaimed with a grin.
He has an Oedipal Complex, he kept chewing my 'gagement ring!
We've taught him to sit, and to shake hands on cue.
He's a friend, a protector, and a vacuum cleaner, too!
It's not always perfect, we've had ups and downs,
But with Eddie in our lives, there's more smiles than frowns.
So if a bundle of fur is on Santa's Great List,
Please remember your shelters for a Christmas Wet Kiss.
Iams Home for the Holidays has a wonderful site
That will help Santa find a dog or cat that's just right!
Our tale is done, one last thing 'fore we're through,
"Merry Christmas to all!  And our furry friends, too!"
(Puppies are fun - they're so cute when they're little!
But allow me to share just one last detail.
I heard hubby exclaim, once potty training was through,
"The next dog that we get will be at least age two!")