Blogging has been an experience much like my first day at a new school during the middle of my 8th grade year. Everybody already knew each other - seems like they've known each other forever. Do they like me? Do they hate me? Do they even notice me? I love writing, and I've enjoyed all the people I've met during my short bloggy life, but I'd be lying if I didn't admit to moments of weakness, bummed out that my stats weren't going up or that my Entrecard ad rate is so low. (Could you imagine having stats in high school? I'm not sure I would have made it through!) At my low points, I would keep chanting my mantra, "My mom thinks I'm funny. My mom thinks I'm funny. My mom thinks I'm funny," and I'd brighten up again.
Just the other day, I was whining to discussing with Renee at Cutie Booty Cakes (an awesome blogger, by the way, and obviously extremely nice and charitable) some ideas to increase traffic, when lo and behold I was bestowed with not one, but TWO awards! You can imagine my shock! And my girlish squeals of delight!!! Sissy was witnessing my elation, to which she proclaimed, "What the heck is wrong with you?"
"I got an award!" I told her breathlessly.
"What the heck is that?"
"Bloggers give them to each other, see, I'll show you..."
And after a few minutes of trying to explain, Sissy just shrugged her shoulders and gave that my-sister-is-a-lunatic-and-somebody-needs-to-do-an-intervention look.
Whatever, I don't care, I've got AWARDS!!! I have ARRIVED!!!
And now, to introduce the first of my TWO awards...
Kelly over at Neurotic Mom gave me the Brilliante Weblog Award. (Obviously, it has much more status then the "Brilliant Weblog Award." That "e" means so much!) She was so deserving as the original receiver of this award (her blog rocks!) and I feel so honored that an amazing bloggess such as herself would think so highly of lil' ol' small-potatoes me!
And, along the same lines as Miss America, I will pass this crown on to other bloggy folks who have been doing stellar blogginess on their fabulously brilliante blogs...
To these lovely Bloggy Princesses, I turn over the Brilliante Crown. Now go out and spread the love to seven other well-deserving blogs!
My SECOND (yes, that's of TWO!) award is the Kick Ass Blogger Award! I love that I am deemed kick ass and brilliante all in the same day! I feel like those women in "Crouching Tiger, Hidden Dragon" - Kicking Ass Brilliantely! This award was kindly given me by Rachel over at Following in my Shoes, a stellar blogger in her own right. I just go for cheap humor, Rachel's got heart in her posts that I can only dream of emulating one day.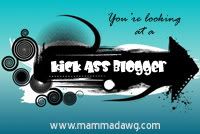 Once again, I would like to hand over my Kick Ass Crown to the following kickety-ass bloggers...
The awardees are kindly encouraged to head on over to MamaDawg's to pick up their html code and get a run-down of the rules. In short, they will be asked to turn their crowns over to five other ass-kicking bloggettes.
And that is the run-down for today. This post was a lot of work, what with all the choosing and linking and stuff, but it is work that I would love to do any day of the week!
Now I am off to enjoy my day on this Awards High. I think I'll wear my pink furry tiara, so everyone knows how awesome I am.
But maybe I ought change out of my jammies first.